Can you switch quickly, be in contact with different departments and at the same time keep an overview? Do you know how to plan our orders efficiently, taking into account customer requirements and the availability of capacity and materials? Then the position of Central Order Planner is for you.
What will you do as a Central Order Planner?
In the role of Central Order Planner, you will be operationally responsible for planning the order process and manage the logistical aspects of our projects from the acquisition phase to delivery. You are the connecting link within the business office and responsible for validating the feasibility of orders and projects. You assess and monitor the timely availability of materials, resources and personnel capacity. You are the spider in the web between sales, project management and operations and represent the various interests, identify bottlenecks and take the initiative to solve them. You set priorities where necessary. For large quotations, you are already involved in the sales process for issuing a possible delivery date to the customer. You plan and monitor the progress of projects based on milestones. A dynamic function where no day is the same.
Duties and responsibilities
Optimal planning of engineering and the workshops
Clear expectation towards Sales regarding order delivery times
Good coordination between project management, engineering, supply chain and the assembly department
Identify and anticipate bottlenecks, prioritize and escalate to MT as needed
Chairing business office in which the various functional processes are represented
Keeping order planning overall current and accurate
Managing open order book
Initiate new ideas to improve the process
What we have to offer you
You can expect good terms of employment from a market leader, and that's what we offer! Both primary and secondary benefits are excellent at Selo. Selo also offers you plenty of scope for personal development. The informal atmosphere gives you the opportunity to take responsibility and show initiative. And it's only logical that you're supervised and supported by the organization.
27 vacation days + 13 ATV days (obv full-time)
Laptop and company phone will be waiting for you on your first day of work
An independent and responsible position
Continuing education and training to ensure your continuous development
8.0% vacation pay, paid monthly
Colleagues of all shapes and sizes. After all, we are a reflection of society!
The charm of a small company, the possibilities of a large one
The salary depends on your knowledge and experience. In addition, we offer freedom to fill the role yourself in the best possible way and a nice team to work with. We find it important that our employees enjoy coming to work.
Your profile
You work independently and seek cooperation between different departments within Selo where necessary. You have a natural drive to keep up-to-date with all the necessary competencies, knowledge, skills, experience, motivation and proactivity to perform your job as effectively and efficiently as possible.
To be successful in this role, you will bring the following baggage:
HBO/WO working and thinking level, preferably an education in Business Administration, Technical Business Administration or Logistics
Minimum 3 to 5 years of experience in a similar position in the planning and logistics field
Experience with mechanical engineering and/or process engineering
Knowledge of MS Office ERP/CRM system
Eye for detail, structure, flexible, proactive and stress resistant
Excellent communication skills
Good analytical and conceptual skills
Skilled in dealing with conflicting interests
Team player with vision
Persuasive and entrepreneurial attitude
Accurate and organizational qualities
In addition to a good command of the Dutch language, good proficiency in the English language, both verbal and written
About SELO
Be amazed! We are also still amazed every day by our innovative solutions, diversity of colleagues, our huge market share for a relatively small company, as well as our Twente sobriety.
Apply for the Central Order Planner vacancy?
Are you excited after reading this job description, please apply quickly! Send your details to hr@selo.eu and we will contact you. Would you like more information to assess whether the position suits you? Or if you have any questions, please contact Bianca Nijveld(bn@selo.eu Manager Supply Chain) or Martine Bos(m.bos@selo.eu HR) or call 0541-582000.
Interested in this position?
Contact our HR advisor & apply now!
This is what Selo employees have to say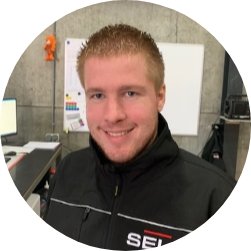 Danny Hampsink
Warehouse employee
Hello, I will introduce myself first, my name is Danny Hampsink and working at Selo since October 2019. Before this I studied the training Filiaalmanager in Almelo. Here I was not quite in my place and I went looking for a new challenge, this I have found as a warehouse employee at Selo. In my spare time, I play indoor soccer and enjoy spending time with my friends.
Challenge
What is interesting to me as a warehouse manager at Selo is that Selo is not a standard "warehouse." Selo is a rapidly growing company and of course we see this reflected in the warehouse. For us, no day is the same and that only adds to the challenge. The work we do is therefore very varied. On a daily basis, I am mainly involved in loading and unloading trucks and receiving and issuing goods.
Future
As I mentioned earlier, I started at Selo in October 2019. I have already had the opportunity to learn a lot from my colleagues in this time frame, but there is definitely room for further development. The challenge for me lies in developing my qualities and work even further. Selo is a fast-growing company, which stands still for all employees. Within Selo, you are encouraged not to stand still but to continue to develop yourself.
This is what Selo employees have to say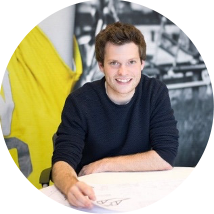 Jan-Jaap Keizers
Project Manager
Hello everyone! I am Jan-Jaap Keizers and since December 2020 I am filling the position of project manager in the Solutions department. Originally from Oldenzaal, I have been living with my girlfriend in Enschede for almost a year now. Just before I started working at Selo, I successfully completed my master's degree in mechanical engineering at the University of Twente, making Selo my first full-time employer. Before completing my bachelor's degree at Saxion University in Enschede, I spent a year in America to broaden my English.
WORKING IN THE DEPARTMENT
I am currently in charge of several projects, both domestic and international. I get satisfaction from my work when I talk to a satisfied customer and the entire team has delivered another impressive customer-specific machine. Partly due to the pleasant team I work with, as well as the great variety between the different projects, I enjoy going to work every day. Of course, this also brings many challenges, such as the responsibility I have for the budget and delivery times of the projects to the customers.
FUTURE
Looking to the future, I see a lot of perspective within Selo to further develop myself. I face different challenges every day and learn a lot from my immediate colleagues through their experience and expertise. Selo also encourages me to continue to develop myself through courses and evaluation periods. I myself have always expressed the ambition of one day being in charge of a technical company, so who knows where my future will end up.
This is what Selo employees have to say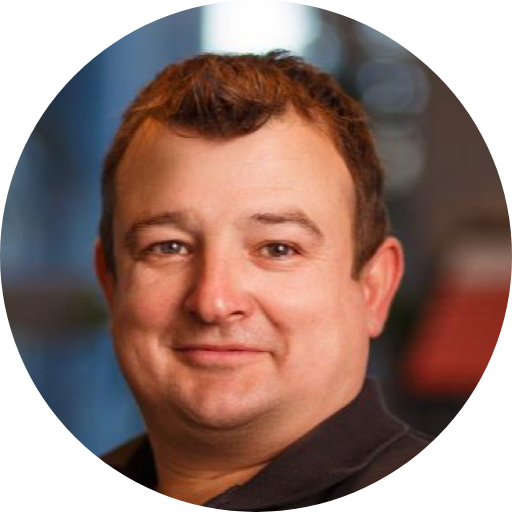 Maicol Averdijk
Assembly leader
My name is Maicol Averdijk. I'm 46 years old, married and have daughters. I live in Diepenheim with my family, wherever I was born. I have been working at Selo in the Food department since 2015. At first as a Prospective Assembly Leader. After six I became an Assembly Leader, which I still do with great pleasure. In 2015, Selo and Omori were all still in the same building on the Eektestraat in Oldenzaal. I have been working in Hengelo for several years now. Here, we have a bigger building which provides us more options.
WORKING IN THE DEPARTMENT
I am responsible for the mechanical assembly and construction of my assigned Food project. This can be very small scale or a large project, this varies quite a bit, which makes the work challenging. I lead the assembly of the projects in the workshop as well as on site at the customer's premises. This can be anywhere in the world. You meet a lot of new people and communication with the customers, suppliers and project teams are very important.
Selo as an employer
I really enjoy working at Selo, the work fits well with my previous education and experience. I would describe Selo as an employer that values and hears its employees. Here, your opinion and input is important. The atmosphere here is good. I have nice colleagues with whom I can laugh, but with whom I can also work well together, which is important to me.
This is what Selo employees have to say
Daphne Bruins
Lead Technician
My name is Daphne Bruins, 22 years old. I live in Hengelo with my daughter. In January 2020, I started my final internship at Selo in the E&A department as a fourth-year student. After half a year of internship I could directly start working at Selo. In February 2021, I became Lead Technician in the pet food building in Oldenzaal, located on the Münsterstraat. Here I enjoy working with my colleagues.
WORKING IN THE DEPARTMENT
As Lead Technician, I am responsible for the electrical work and direct the electricians. Here I make sure that all materials and electrical cabinets arrive in Oldenzaal on time from Hengelo. In addition, I supervise the guys in the workshop and may also supervise trainees.  
Selo as an employer
I would describe Selo as a friendly, open organization, appreciates and listens to its employees. Within Selo there is a nice and pleasant atmosphere to work in. You are appreciated for who you are and mistakes are allowed. I personally like this. We have a great team with whom you can have a good laugh but also deliver a great product to the customer.
This is what Selo employees have to say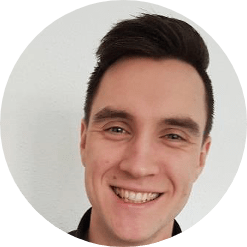 Nick Oude Weernink
Software engineer
Hello, my name is Nick Oude Weernink and I have been working at Selo as a software engineer for a year and a half now. First I was seconded for one year and then I became a permanent employee. I was born in Bathmen and then moved to Enschede for my studies, where I have been living with my girlfriend for one year now. I studied electrical engineering and then got a Bachelor of Science in mechatronics.
Challenges while working at Selo
My education helps me in my varied work at Selo. Personally, I'm not made just to write software every day. So, as a software engineer at Selo, I not only write software, but I also have the opportunity to contribute ideas on mechanical and electronic issues. Our customers are located in all parts of the world, which means that there is also a lot of variation in their requirements in terms of the hardware and software of the machines. No machine that we build is the same and this provides a lot of variety in my work. This combined with the social and pleasant colleagues makes my work fun and challenging.
Future
I have had several courses and trainings in recent times which ensure that I can continue to develop myself. I also learn a lot from my colleagues in the field of process and automation. My goal is to become a lead engineer and eventually maybe even grow to project leader, because I enjoy working with people and I like having contact with the customer. Before I take the next step in this, I will first gain more experience as a software engineer.