Soup production line
Soup production is a rapidly developing and growing market worldwide and with it the demand for a soup production line. This market is driven by an increasing demand for ready-to-eat products and a growing awareness of the health benefits of soups. After all, soups are rich in vitamins, minerals and proteins. Changing consumer lifestyles and increasing propensity to consume healthy food products will increase the demand for soup in the coming years.
Selo designs, supplies and installs fully automated process and production systems for the preparation of fresh, pasteurized and ready-to-eat soups. The soup installations can be custom designed and furnished. In addition to our installations for the production and processing of various soups, we can support you with advice on connection of the process line to the packaging plant and with making the necessary piping.
Some examples of unbound and bound soups that can be produced with our soup production lines:
Clear soups, such as bouillons/broth, consommé

Soups served cold, such as gazpacho

Pureed soups

Creamy cream soups and other thick soups with additives such as minestrone soup and potato soup

Specialties, such as Velouté and Mouliné
The trends in the soup manufacturing world
In addition to the growing demand for fresh soups, we also see the trend emerging that consumers need soups with natural ingredients, without additional additives. Cultural influences with many variations and convenience foods are the main factor here. The production of soup, fresh or long-life, with added fresh ingredients makes each soup look like one made at home by itself. Plus, it makes for a quick meal on the table. From Selo, we jump on this trend and the fresh or long-life soup is produced in the careful way, making a safe, healthy and above all delicious soup.
At Selo, we strive to provide the most advanced and customized soup production lines because we understand that each production line has unique requirements. Our experienced engineers work closely with you to create a solution tailored to your specific needs. We take pride in optimizing your production process, striving for the perfect combination of expertise, quality and versatility. We are constantly innovating to bring you the latest technologies and automation systems. This keeps you able to produce optimally and efficiently and excel in your industry. Our soup installations are designed with efficiency, hygiene and user-friendliness in mind. They comply with the strictest hygiene guidelines and are EHEDG certified, which guarantees a reliable and low-maintenance production process for high-quality soups.
Advantages of Selo's soup production line
Selo's soup production line offers a wide range of benefits that will take your production process to the next level and guarantee exceptional results. We are dedicated to delivering nothing less than top quality, which translates into more efficient production and the tastiest soups. Our machines and equipment are manufactured with the highest quality standards in mind, so you can rely on their reliability and durability. In addition to quality, we offer a range of other crucial benefits:
Multipurpose production: Our soup production line is versatile and capable of producing multiple recipes and varieties of soup, allowing you to flexibly respond to changing market demand and offer diverse products without purchasing multiple separate production lines to do so.
Increased efficiency: Our advanced production lines allow your plant to operate more efficiently and effectively, resulting in higher production levels, lower costs and improved returns.
Always accurate portions: Our soup production line is designed to operate with greater precision and speed. We constantly monitor production accuracy and immediately identify any discrepancies, minimizing waste and increasing production efficiency.
Seamless connection to packaging process: Our production lines can be seamlessly integrated with various packaging processes, keeping your workflow running smoothly and efficiently.
With Selo's soup production line, we assure you of a production process that meets the highest standards of quality, food safety and reliability. You can rely on safe, efficient and highly accurate soup production.
"We are extremely satisfied with Selo's recently installed soup production line. The effectiveness is remarkable, which has increased our production capacity. The multi-deployability allows us to effortlessly produce different soup recipes, which increases our flexibility and product range. Moreover, the quality of our products has increased significantly, according to our customers. We can really rely on consistent and high-quality soups. Selo has exceeded our expectations and has played a crucial role in driving our success in the soup market."
Want to know more about our soup production line? Download the leaflet
Want to know more about Selo's soup food production line? About applications, specifications and even more advantages, among other things. Then download the leaflet.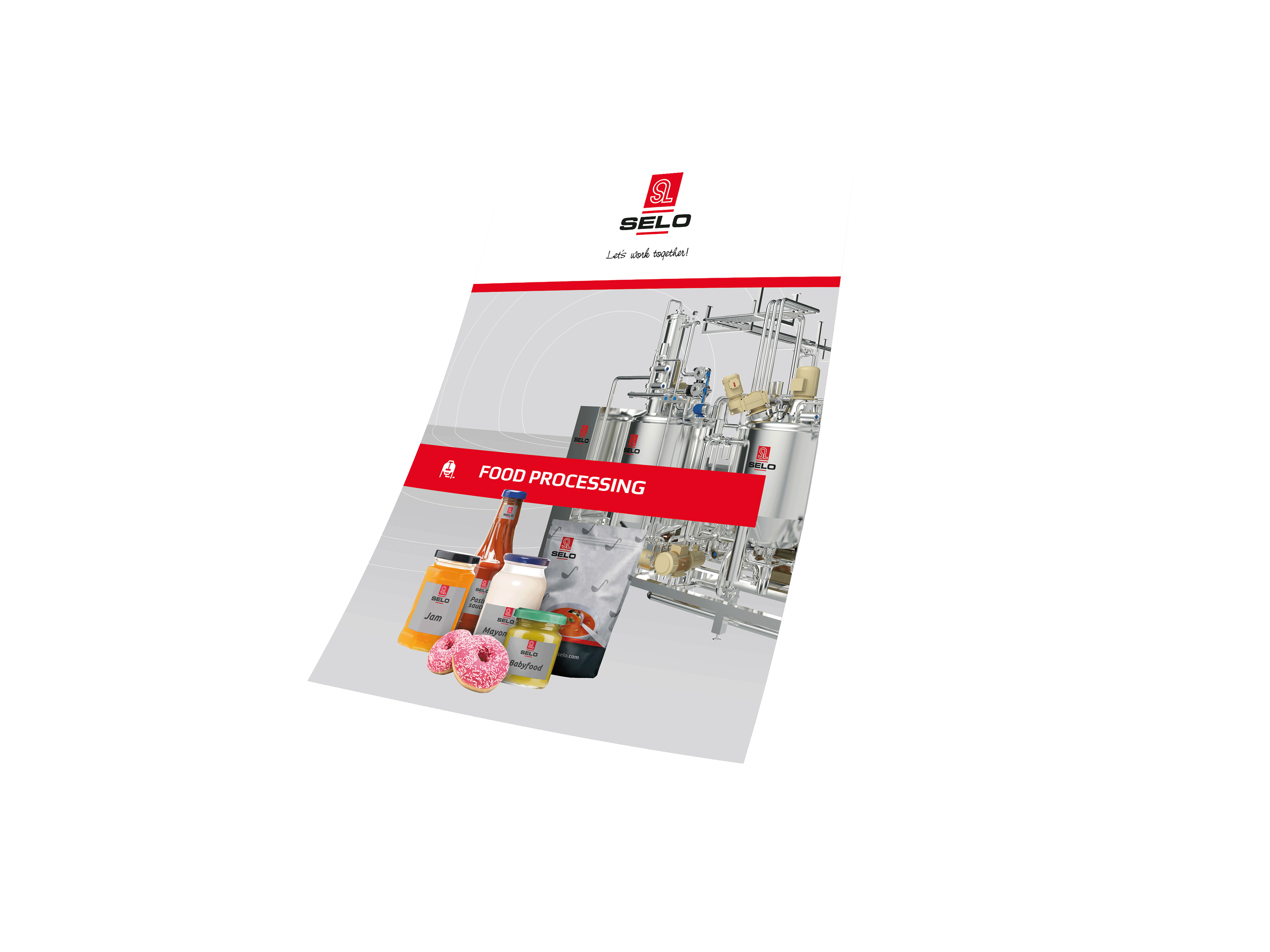 How is soup made with Selo's production line?
Our soup preparation begins with careful ingredient integration, where various components such as fresh or frozen vegetables, meat and chicken are precisely dosed and processed to create a refined product. This integration ranges from fine powder mixing to complete lift-tip systems for preparing vegetables, meat, chicken and seasonings.
Depending on the type of soup, the large ingredients undergo a reduction process using integrated reduction units. Vegetables can be broached in the kettle, where the size and distribution of the pieces are critical to the final quality of the soup. Our expertise is reflected here, where we strive to ensure the desired integrity of the ingredients in the soup.
Water is then dosed and ingredients such as meat, chicken and spices are added and cooked. Pasteurization of the soup can be achieved with jacket heating and/or direct steam injection (DSI), a highly efficient heating method. Optional cooking and cooling can be done under vacuum, which reduces batch time and de-aerates the soup.
After pasteurization, the soup is filled using our filling system. For fresh soups, this can be done via hot filling to avoid contamination and ensure shelf life. The filling temperature is determined by the type of soup. In addition to hot filling, we also offer cold filling. Moreover, we can provide the integration of the filling plant and seamlessly coordinate its cleaning process with our Selo plant.
Producing soup
Soup production is a dynamic and growing part of the food industry. The market for soups is diverse and constantly evolving, with consumers increasingly valuing healthy, tasty and easy-to-prepare options. Soups respond to the growing demand for comfort food with nutritious ingredients and healthy varieties with less salt and preservatives. Competition is also growing, making it crucial to invest in advanced production lines, such as Selo's. This production line allows you to meet the high standards of quality, efficiency and flexibility required by the market. Producing soup with our production line offers plenty of opportunities for innovation and growth.
Selo, the supplier of soup production lines
For years, Selo has been a progressive partner when it comes to designing, developing and realizing advanced soup production lines. As a leading manufacturer, we always offer a complete solution for your production process. From the design phase to the commissioning of the systems and beyond. A complete team of experts in technology, automation, engineering, assembly, installation and after-sales is at your service. We not only offer standard solutions, but also custom production lines. You can count on our professional approach and high-quality services to make your project a success.
More information?
Looking for more information about one of our products or have a question or complaint? If so, please contact us using the form below.