Baby food production line
The baby food production line must meet the highest requirements. Indeed, producing baby food is a special segment in the food sector, where extreme hygiene and high quality are very important. At Selo, we design, develop and realize advanced baby food production lines suitable for cooked, pasteurized and refrigerated baby food products. These products are suitable for babies 4, 5, 8, 12 and 15 months old. Our production lines are fully optimized and automated. This allows you to produce your desired baby food in numerous flavors and variations daily and in precise portions.
Did you know that with the baby food production line you can also produce other products, of similar substances that must meet the same high standards? In fact, a recipe change is quick and easy with this production line. Not only do we develop the entire production line at Selo, we can also advise you on the final step: packaging baby food products. Think about connecting packaging machines that fill the glass jars and seal them bacteria-free, making them suitable for the food sector.
Baby Food Production Lines: Efficiency and Quality
Baby food production requires a high degree of safety and quality, but it starts with a perfectly matched recipe. The right combination of ingredients and a well-tuned process line configuration allow you to strive for consistent quality. With our baby food production line, you can count on high capacity and an efficient production process with short lead times. Achieving optimal efficiency at every stage of production is one of our goals when developing your production line. We are ready to advise you on the entire production process. At Selo, we also offer the opportunity to test your recipe in advance and carry out trial batches at our own Technology Center.
We believe every production line has unique needs. That's why a team of experienced engineers works with you to create a customized baby food production line. Moreover, at Selo, we continue to constantly develop ourselves and innovate our machines to offer you the latest technologies and automation systems. This way, you continue to produce optimally and efficiently.
Benefits of Selo's baby food production line
The baby food production line from Selo offers numerous advantages that, above all, optimize your production process. For example, think about producing more efficiently and products of higher quality. Our machines and installation components are of excellent quality and comply with all production regulations. But not only that, we also ensure that the production line is and remains reliable in all its functions. Besides quality, there are other important benefits we offer:
Safety: We test our production lines in every detail for safety, both for the baby food and for the production process itself.
Increased efficiency: Our new production line allows your plant to operate more efficiently and effectively, leading to higher production levels, lower costs and improved profitability.
Improved portion accuracy: Our production line is designed to operate with greater precision and speed. We monitor production accuracy and immediately detect any discrepancies, reducing waste and increasing product efficiency.
Seamless integration with packaging process: Our production lines can be seamlessly integrated with various packaging processes.
With our baby food production line, we ensure that your production process meets the highest standards and that you can rely on safe, efficient and accurate production.
"Several years ago the desire arose to optimize our entire baby food production line. The machines were outdated and we wanted our products to better suit our customers. We then sought advice from Selo. What possibilities are there for our production line? How can we optimize and, above all, how can we increase our returns? The result was well-founded advice and a design for a completely redesigned baby food production line. Thanks to this production line, we have been able to give the quality of our products a considerable boost, so that we receive daily compliments from our customers. But also, the advanced control and management system ensures that we can produce much more efficiently and that the quality of the products is guaranteed at all times."
Want to know more about our baby food production line? Download the leaflet
Want to learn more about Selo's baby food production line? About applications, specifications and even more advantages, among other things. Then download the leaflet.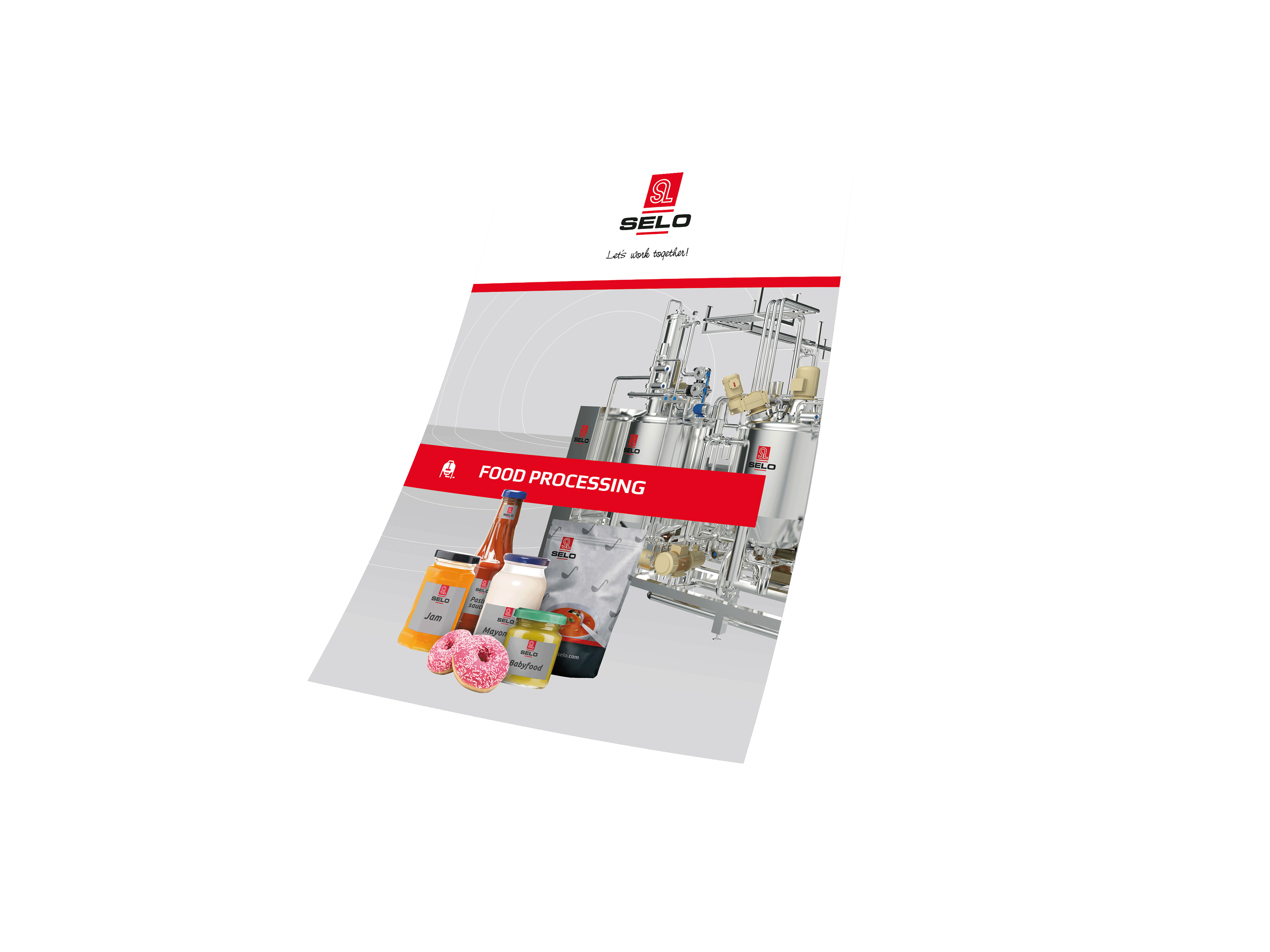 Selo's approach
The main principles of the Selo baby food production line are quality and efficiency, with high hygiene requirements included. Together with you, we also carefully map out all other specifications and requirements. For example, is a quick recipe change without too much waste desirable? Or do you want both cold and hot filling and do the entire production team need to be able to work with it easily? We present the possibilities of our machines and are happy to show you up close in our Technology Center. Once we have gathered all the information, our engineering team gets to work. With their technical expertise and years of experience in the production industry, they translate the requirements into a comprehensive and well thought-out baby food production line.
In our workshop, the approved production line is assembled with extreme precision, with each component placed in its proper place and functionally assembled. Both hardware and software come together here and are extensively tested to ensure that the production line meets strict quality standards. Once all checks are completed, the baby food production line is ready for transport.
Our experienced technicians then carefully install the baby food production line in your factory facility, ensuring that everything functions properly, exactly as agreed. Prior to the official start, your operations team receives hands-on training so that they become familiar with working with the new baby food production line. Once everything is in place and your team is ready to start, production of high-quality baby food can begin.
Producing baby food
Producing baby food is a responsible task. Baby foods, as it says, are foods designed specifically for babies and young children. They meet the nutritional needs they require and contribute to healthy growth and development. As a producer, you have a direct impact on the health and well-being of our society's little ones. This often starts with putting together a nutritious recipe. The right combination of ingredients make for a flavorful jar or bag of baby food, preserving good color, flavor and nutrients.
Selo, baby food production line supplier
For years, Selo has been a progressive partner when it comes to designing, developing and realizing advanced baby food production lines. As a leading manufacturer, we always offer a complete solution for your production process. From the design phase to the commissioning of the systems and beyond. A complete team of experts in technology, automation, engineering, assembly, installation and after-sales is at your service. We not only offer standard solutions, but also custom production lines. You can count on our professional approach and high-quality services to make your project a success.
More information?
Looking for more information about one of our products or have a question or complaint? If so, please contact us using the form below.